Diagram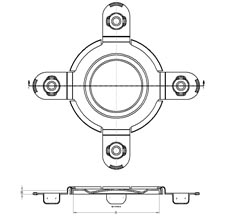 TLF Series
Toggle Lock Flange Protectors
The TLF patented design has four hinged plugs that can be pressed into bolt holes one at a time for faster installation than traditional covers. Features a thick pad for impact protection with reinforced walls to reduce warping and allow greater surface contact. Also permits use of a paint hook, or can be removed for a bolt.
For ANSI B 16.5
Durable
Easy to install & remove
Full range of pressure classes and sizes
Material: Low-density polyethylene
Standard Color: 150 pressure class: Blue, Red. 300 through 2500 pressure class: Black
Items below are filtered. Use this button to show all.
Item #
API
Pressure Class (lb)
To Fit Nominal Pipe Size
TLF-150-0500
150
1/2
TLF-150-0750
150
3/4
TLF-150-1000
150
1
TLF-150-1250
150
1 1/4
TLF-150-1500
150
1 1/2
TLF-150-2000
150
2
TLF-150-2500
150
2 1/2
TLF-150-3000
150
3
TLF-150-3500
150
3 1/2
TLF-150-4000
150
4
TLF-150-6000
150
6
TLF-150-8000
150
8
TLF-150-10000
150
10
TLF-150-12000
150
12
TLF-150-14000
150
14
TLF-300-0500
300, 400, 600
1/2
TLF-300-0750
300, 400, 600
3/4
TLF-300-1000
300, 400, 600
1
TLF-300-1250
300, 400, 600
1 1/4
TLF-300-1500
300, 400, 600
1 1/2
TLF-300-2000
300, 400, 600
2
TLF-300-2500
1-3/16 10000
300, 400, 600
2 1/2
TLF-300-3000
300, 400, 600
3
TLF-300-3500
300
3 1/2
TLF-300-4000
300
4
TLF-300-6000
300
6
TLF-300-8000
300
8
TLF-300-10000
300
10
TLF-300-12000
300
12
TLF-300-14000
300
14
TLF-600-4000
4-1/16 2000
600
4
TLF-600-6000
7-1/16 2000
600
6
TLF-600-8000
9 2000
600
8
TLF-600-10000
11 2000
600
10
TLF-600-12000
13-5/8 2000
600
12
TLF-900-2000
2-1/16 3000
900/1500
2
TLF-900-3000
3-1/8 3000
900
3
TLF-900-4000
4-1/16 3000
900
4
TLF-900-6000
7-1/16 3000
900
6
TLF-1500-2500
2-9/16 5000
1500
2.5
TLF-1500-3000
3-1/8 5000
1500
3
TLF-1500-4000
4-1/16 5000
1500
4
TLF-1500-6000
7-1/16 5000
1500
6
TLF-2060-10M
2-1/16 10000
10000
TLF-2500-2000
2500
2
TLF-2500-3000
2500
3