Diagram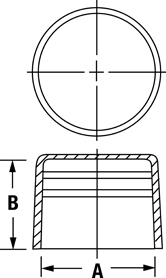 CE Series
Plastic Caps for Threaded Pipe Ends
CE Series plastic pipe caps are durable and protect against damage and debris. CE-309 through CE-326 feature an NPT Taper; all others have straight walls.
Protects pipe ends.
Keeps dirt and contaminants out of the pipe.
14",16",18",20",24",30",36" & 42" have internal ribs for self ventilating and added impact protection.
Material: Low-Density Polyethylene
Standard Color: Black*
*CE-331 standard color is yellow

Items below are filtered. Use this button to show all.
Item #
Dim A (IN)
Dim B (IN)
To Fit Thread Size
CE-309
0.53
0.59
1/4 NPT
CE-310
0.67
0.59
3/8 NPT
CE-311
0.84
0.78
1/2 NPT
CE-312
1.05
0.78
3/4 NPT
CE-313
1.31
0.97
1 NPT
CE-314
1.66
1.00
1 1/4 NPT
CE-315
1.90
1.00
1 1/2 NPT
CE-316
2.37
1.03
2 NPT
CE-317
2.87
1.56
2 1/2 NPT
CE-318
3.50
1.63
3 NPT
CE-319
4.00
1.66
3 1/2 NPT
CE-320
4.50
1.72
4 NPT
CE-321
5.56
1.81
5 NPT
CE-322
6.62
1.94
6 NPT
CE-324
8.62
2.13
8 NPT
CE-325
10.75
2.34
10 NPT
CE-326
12.75
2.53
12 NPT
CE-14
14.00
2.88
14 NPS
CE-16
16.00
2.88
16 NPT
CE-18
18.00
2.93
18 NPT
CE-20
20.00
2.88
20 NPT
CE-331
22.00
2.36
22 NPT
CE-24
24.00
2.88
24 NPT
CE-333
26.00
4.53
26 NPT
CE-334
28.00
4.53
28 NPT
CE-30
30.00
4.50
30 NPT
CE-336
32.00
4.53
32 NPT
CE-36
36.00
4.53
36 NPT
CE-338
40.00
4.53
40 NPT
CE-42
42.00
4.53
42 NPS
CE-342
44.00
3.92
44 NPT
CE-344
48.00
4.53
48 NPT
CE-346
52.00
5.91
52 NPT
CE-348
56.00
5.91
56 NPT
CE-350
60.00
5.91
60 NPT
CE-352
64.00
5.91
64 NPS