Diagram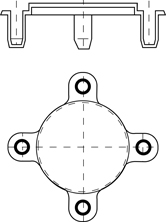 FC Series
Stud Hole Flange Protectors
FC series protector plugs snap into flange bolt holes with minimal pressure and no fastening devices.
Resistant to petroleum residue
Locks into four bolt holes
Protects the raised face
Color coded by pressure class
Material: Low-density polyethylene
Standard Color: 150lb Series - Blue
300lb Series - Black
Items below are filtered. Use this button to show all.
Item #
Pipe Size
FC-150-0500
1/2
FC-150-0750
3/4
FC-150-1
1
FC-150-1500
1-1/2
FC-150-2
2
FC-150-3
3
FC-150-4
4
FC-150-6
6
FC-150-8
8
FC-150-10
10
FC-150-12
12
FC-300-0500
1/2
FC-300-0750
3/4
FC-300-1
1
FC-300-1500
1-1/2
FC-300-2
2
FC-300-3
3
FC-300-4
4
FC-300-6
6
FC-300-8
8
FC-300-10
10
FC-300-12
12