Diagram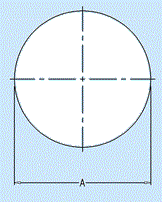 FAR Series
Self Adhesive Flange Protectors -Raised Face
The FAR self-adhesive covers preserve sealing surfaces on any ANSI B-16.5 and ANSI B-16.47 raised-face flange. Simply peel backing off and press on. The cover will remain intact with adhesive until removed, leaving no film residue.
Adhesive backed
Protects the raised-face only
Material: High-density polyethylene
Standard Color: Black

Items below are filtered. Use this button to show all.
Item #
Dim A (IN)
To Fit Nominal Pipe Size
FAR-1/2
1.38
1/2
FAR-3/4
1.69
3/4
FAR-1
2.00
1
FAR-1 1/4
2.50
1-1/4
FAR-1 1/2
2.88
1-1/2
FAR-2
3.62
2
FAR-2 1/2
4.12
2-1/2
FAR-3
5.00
3
FAR-3 1/2
5.50
3-1/2
FAR-4
6.19
4
FAR-5
7.31
5
FAR-6
8.50
6
FAR-8
10.62
8
FAR-10
12.75
10
FAR-12
15.00
12
FAR-14
16.25
14
FAR-16
18.50
16
FAR-18
21.00
18
FAR-20
23.00
20
FAR-22
25.25
22
FAR-24
27.25
24
FAR-150-26A
29.50
26
FAR-150-28A
31.50
28
FAR-150-30A
33.75
30
FAR-150-32A
36.00
32
FAR-150-34A
38.00
34
FAR-150-36A
40.25
36
FAR-150-38A
42.25
38
FAR-150-40A
44.25
40
FAR-150-42A
47.00
42
FAR-150-44A
49.00
44
FAR-150-46A
51.00
46
FAR-150-48A
53.50
48
FAR-150-26B
28.00
26
FAR-150-28B
30.00
28
FAR-150-30B
32.00
30
FAR-150-32B
34.00
32
FAR-150-34B
36.25
34
FAR-150-36B
38.25
36
FAR-150-38B
40.25
38
FAR-150-40B
42.50
40
FAR-150-42B
44.50
42
FAR-150-44B
46.50
44
FAR-150-46B
48.62
46
FAR-150-48B
50.75
48
FAR-150-50B
52.75
50
FAR-300-26A
29.50
26
FAR-300-28A
31.50
28
FAR-300-30A
33.75
30
FAR-300-32A
36.00
32
FAR-300-34A
38.00
34
FAR-300-36A
40.25
36
FAR-300-38A
40.50
38
FAR-300-40A
42.75
40
FAR-300-42A
44.75
42
FAR-300-44A
47.00
44
FAR-300-46A
49.00
46
FAR-300-48A
51.25
48
FAR-300-50A
53.50
50
FAR-300-26B
29.00
26
FAR-300-28B
31.00
28
FAR-300-30B
33.25
30
FAR-300-32B
35.50
32
FAR-300-34B
37.50
34
FAR-300-36B
39.75
36
FAR-300-38B
41.75
38
FAR-300-40B
43.88
40
FAR-300-42B
46.00
42
FAR-300-44B
48.00
44
FAR-300-46B
50.00
46
FAR-300-48B
52.25
48
FAR-400-26A
29.50
26
FAR-400-28A
31.50
28
FAR-400-30A
33.75
30
FAR-400-32A
36.00
32
FAR-400-34A
38.00
34
FAR-400-36A
40.25
36
FAR-400-38A
40.75
38
FAR-400-40A
43.00
40
FAR-400-42A
45.00
42
FAR-400-44A
47.25
44
FAR-400-46A
49.50
46
FAR-400-48A
51.50
48
FAR-400-50A
53.62
50
FAR-400-26B
28.00
26
FAR-400-28B
30.00
28
FAR-400-30B
32.25
30
FAR-400-32B
34.38
32
FAR-400-34B
36.50
34
FAR-400-36B
38.62
36
FAR-400-38B
43.00
40
FAR-400-40B
43.00
40
FAR-400-42B
45.00
42
FAR-400-44B
47.25
44
FAR-400-46B
49.50
46
FAR-400-48B
51.50
48
FAR-400-50B
53.62
50
FAR-600-26A
29.50
26
FAR-600-28A
31.50
28
FAR-600-30A
33.75
30
FAR-600-32A
36.00
32
FAR-600-34A
38.00
34
FAR-600-36A
40.25
36
FAR-600-38A
41.50
38
FAR-600-40A
43.75
40
FAR-600-42A
46.00
42
FAR-600-44A
48.25
44
FAR-600-46A
50.25
46
FAR-600-48A
52.50
48
FAR-600-26B
28.62
26
FAR-600-28B
30.88
28
FAR-600-30B
33.12
30
FAR-600-32B
35.25
32
FAR-600-34B
37.50
34
FAR-600-36B
39.75
36
FAR-600-38B
41.50
38
FAR-600-40B
43.75
40
FAR-600-42B
46.00
42
FAR-600-44B
48.25
44
FAR-600-46B
50.25
46
FAR-600-48B
52.50
48
FAR-900-26A
29.50
26
FAR-900-28A
31.50
28
FAR-900-30A
33.75
30
FAR-900-32A
36.00
32
FAR-900-34A
38.00
34
FAR-900-36A
40.25
36
FAR-900-38A
43.25
38
FAR-900-40A
45.75
40
FAR-900-42A
47.75
42
FAR-900-44A
50.00
44
FAR-900-46A
52.50
46
FAR-900-26B
30.00
26
FAR-900-28B
32.25
28
FAR-900-30B
34.50
30
FAR-900-32B
36.50
32
FAR-900-34B
39.00
34
FAR-900-36B
40.50
36
FAR-900-38B
43.25
38
FAR-900-40B
45.75
40
FAR-900-42B
47.75
42
FAR-900-44B
50.00
44
FAR-900-46B
52.50
46
FAR-75-26
27.75
26
FAR-75-28
29.75
28
FAR-75-30
31.75
30
FAR-75-32
33.75
32
FAR-75-34
35.75
34
FAR-75-36
38.00
36
FAR-75-38
40.00
38
FAR-75-40
42.00
40
FAR-75-42
44.00
42
FAR-75-44
46.25
44
FAR-75-46
48.25
46
FAR-75-48
50.25
48
FAR-75-50
52.25
50