Diagram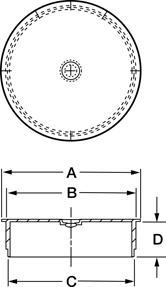 PVCP Series
Pipe Plugs
PVCP Series straight wall plugs are designed to fit into plastic pipe conduit used in construction. This piping is commonly used as conduit between floors of a structure. The piping needs to be sealed to ensure it doesn't fill with concrete. The PVCP Series fits securely into the pipe to ensure it remains protected throughout the building process.
Fits flush with pipe wall OD
Seals to keep out contaminants
Material: Low-density polyethylene
Standard Color: Red
Items below are filtered. Use this button to show all.
Item #
Dim A (IN)
Dim B (IN)
Dim C (IN)
Dim D (IN)
PVCP-1 1/4
1.62
1.53
1.52
.55
PVCP-1 1/2
1.86
1.75
1.74
.55
PVCP-2
2.34
2.18
2.17
.60
PVCP-2 1/2
2.84
2.71
2.69
.65
PVCP-3
3.47
3.34
3.31
.75
PVCP-3 1/2
3.96
3.81
3.78
.75
PVCP-4
4.46
4.26
4.24
.75
PVCP-5
5.51
5.26
5.22
.85
PVCP-8
8.59
8.22
8.16
1.00