Diagram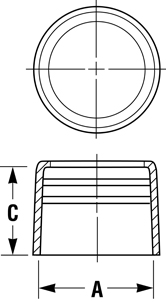 OE Series
Open-End Thread Protectors
The OE series pipe caps shield threaded pipes and conduits during shipping, storage and transit. Available in two styles: with tear ring (style 2)* and without.
The patented tear ring* design has the same over all dimensions as the standard, but with value added features:
Internal tapered ribs for improved installation and impact protection
Internal bead at the open end helps keep moisture out
No tools required to remove the cap
Color coded for ease of recognition
Slightly longer to ensure complete coverage of the threads
*US Patents D 615,164 and D 617,426
Material: Low-density polyethylene
Standard Color: Various

Items below are filtered. Use this button to show all.
Item #
Dim A (IN)
Dim C (IN)
Pipe Size
Style 2
OE-311
.840
.78
1/2
OE-0500
.823
.83
1/2
Yes
OE-0750
1.030
0.84
3/4
Yes
OE-312
1.050
.78
3/4
OE-1000
1.295
1.00
1
Yes
OE-313
1.315
.97
1
OE-1250
1.640
1.03
1 1/4
Yes
OE-314
1.660
1.00
1-1/4
OE-1500
1.880
1.05
1 1/2
Yes
OE-315
1.900
1.00
1-1/2
OE-2000
2.355
1.18
2
Yes
OE-316
2.375
1.03
2
OE-2500
2.860
1.76
2 1/2
Yes
OE-317
2.875
1.56
2-1/2
OE-3000
3.478
1.82
3
Yes
OE-318
3.500
1.63
3
OE-3500
3.973
1.87
3 1/2
Yes
OE-319
4.000
1.66
3-1/2
OE-320
4.500
1.72
4
OE-4000
4.468
1.92
4
Yes
OE-5000
5.542
2.03
5
Yes
OE-321
5.563
1.81
5
OE-322
6.625
1.94
6
OE-6000
6.580
2.11
6
Yes
OE-10000
10.673
2.55
10
Yes