Diagram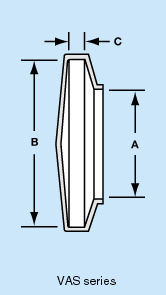 VAS Series
Vinyl American Standard Association Flange Protectors
Designed to accommodate most American Standard Association, Navy and Military sizes, the VAS Series Vinyl Flange Covers protect flanges by sealing out dust and moisture during shipment. Series VAS is available in a wide range of sizes.
Flexible fit
Standard color yellow for visiblilty
Other colors available
Material: Vinyl
Standard Color: Yellow
Optional Colors: White, Black, Brown, Orange, Red, Green, Gray, Blue
Items below are filtered. Use this button to show all.
Item #
Dim A (IN)
Dim B (IN)
Dim C (IN)
VAS-3500-6
2.485
3.500
.400
VAS-3750-8
2.750
3.750
.500
VAS-3870-8
2.860
3.870
.540
VAS-4250-7
3.260
4.250
.460
VAS-4620-9
3.620
4.620
.500
VAS-4870-10
3.900
4.870
.680
VAS-5000-9
4.000
5.000
.620
VAS-5250-12
4.250
5.250
.760
VAS-5750-8
5.130
5.750
.550
VAS-6000-10
4.500
6.000
.675
VAS-6120-13
5.110
6.120
.825
VAS-6500-14
5.500
6.500
.900
VAS-7000-12
6.000
7.000
.800
VAS-7500-14
6.500
7.500
.900
VAS-8250-19
7.200
8.250
1.300
VAS-9000-15
8.030
9.000
1.000
VAS-10000-14
9.000
10.030
.875
VAS-10750-24
9.730
10.750
1.500
VAS-11000-16
10.050
11.000
1.000
VAS-12500-22
11.500
12.500
1.440