Diagram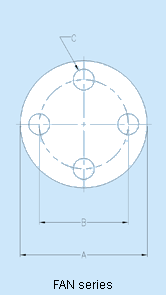 FAN Series
Flange Protectors with Matching Bolt Holes
FAN series covers securely protect the full face of any ANSI B-16.5 and ANSI B-16.47 flanges and sealing surfaces with use of additional plugs (FBH Series) or cable ties (CAB Series) through the bolt holes.
Material: High-density polyethylene
Standard Color: Black (-CP denotes white vinyl alternative)
Items below are filtered. Use this button to show all.
Item #
Dim A (IN)
Dim B (IN)
Dim C (IN)
M BH PLUG
To Fit Nominal Pipe Size
FAN-150-1/2
3.50
2.38
0.68
FBH-625
1/2
FAN-150-3/4
3.88
2.75
0.68
3/4
FAN-150-1
4.25
3.12
0.68
FBH-625
1
FAN-150-1 1/4
4.62
3.50
0.68
FBH-625
1-1/4
FAN-150-1 1/2
5.00
3.88
0.68
FBH-625
1-1/2
FAN-150-2
6.00
4.75
0.68
FBH-625
2
FAN-150-2 1/2
7.00
5.50
0.81
FBH-750
2-1/2
FAN-150-3
7.50
6.00
0.81
3
FAN-150-3 1/2
8.50
7.00
0.81
3-1/2
FAN-150-4
9.00
7.50
0.81
4
FAN-150-5
10.00
8.50
0.94
5
FAN-150-6
11.00
9.50
0.94
6
FAN-150-8
13.50
11.75
0.94
8
FAN-150-10
16.00
14.25
1.06
FBH-1000
10
FAN-150-12
19.00
17.00
1.06
FBH-1000
12
FAN-150-14
21.00
18.75
1.18
FBH-1125
14
FAN-150-16
23.50
21.25
1.18
FBH-1125
16
FAN-150-18
25.00
22.75
1.31
FBH-1250
18
FAN-150-20
27.50
25.00
1.31
FBH-1250
20
FAN-150-22
29.50
27.25
1.44
FBH-1375
22
FAN-150-24
32.00
29.50
1.44
FBH-1375
24
FAN-150-26A
34.25
31.75
1.44
FBH-1375
26
FAN-150-26B
30.94
29.31
0.94
26
FAN-150-28A
36.50
34.00
1.44
28
FAN-150-28B
32.94
31.31
0.94
28
FAN-150-30A
38.75
36.00
1.44
30
FAN-150-30B
34.94
33.31
0.94
30
FAN-150-32A
41.75
38.50
1.68
32
FAN-150-32B
37.06
35.44
0.94
32
FAN-150-34A
43.75
40.50
1.68
34
FAN-150-34B
39.56
37.69
1.06
34
FAN-150-36A
46.00
42.75
1.68
36
FAN-150-36B
41.62
39.75
1.06
36
FAN-150-38A
48.75
45.25
1.68
38
FAN-150-38B
44.25
42.12
1.18
38
FAN-150-40A
50.75
47.25
1.68
40
FAN-150-42A
53.00
49.50
1.68
42
FAN-150-42B
48.25
46.12
1.18
42
FAN-150-44A
55.25
51.75
1.68
44
FAN-150-44B
50.25
48.12
1.18
44
FAN-150-46A
57.25
53.75
1.68
46
FAN-150-46B
52.81
50.56
1.31
46
FAN-150-48A
59.50
56.00
1.68
48
FAN-150-48B
54.81
52.56
1.31
48
FAN-300-1/2
3.75
2.62
0.68
1/2
FAN-300-3/4
4.62
3.25
0.81
3/4
FAN-300-1
4.88
3.50
0.81
1
FAN-300-1 1/4
5.25
3.88
0.81
1-1/4
FAN-300-1 1/2
6.12
4.50
0.94
1-1/2
FAN-300-2
6.50
5.00
0.81
2
FAN-300-2 1/2
7.50
5.88
0.94
2-1/2
FAN-300-3
8.25
6.62
0.94
3
FAN-300-3 1/2
9.00
7.25
0.94
3-1/2
FAN-300-4
10.00
7.88
0.94
4
FAN-300-5
11.00
9.25
0.94
5
FAN-300-6
12.50
10.62
0.94
6
FAN-300-8
15.00
13.00
1.06
8
FAN-300-10
17.50
15.25
1.18
10
FAN-300-12
20.50
17.75
1.31
12
FAN-300-14
23.00
20.25
1.31
14
FAN-300-16
25.50
22.50
1.44
16
FAN-300-18
28.00
24.75
1.44
18
FAN-300-20
30.50
27.00
1.44
20
FAN-300-22
33.00
29.25
1.68
22
FAN-300-24
36.00
32.00
1.68
24
FAN-300-26A
38.25
34.50
1.81
26
FAN-300-26B
34.12
31.62
1.44
26
FAN-300-28A
40.75
37.00
1.81
28
FAN-300-28B
36.25
33.75
1.44
28
FAN-300-30A
43.00
39.25
1.94
30
FAN-300-30B
39.00
36.25
1.56
30
FAN-300-32A
45.25
41.50
2.06
32
FAN-300-32B
41.50
38.50
1.68
32
FAN-300-34A
47.50
43.50
2.06
34
FAN-300-34B
43.62
40.62
1.68
34
FAN-300-36A
50.00
46.00
2.18
36
FAN-300-36B
46.12
42.88
1.81
36
FAN-300-38A
46.00
43.00
1.68
38
FAN-300-38B
48.12
44.88
1.81
38
FAN-300-40A
48.75
45.50
1.81
40
FAN-300-40B
50.12
46.88
1.81
40
FAN-300-42A
50.75
47.50
1.81
42
FAN-300-42B
52.50
49.00
1.94
42
FAN-300-44A
53.25
49.75
1.94
44
FAN-300-44B
54.50
51.00
1.94
44
FAN-300-46A
55.75
52.00
2.06
46
FAN-300-46B
57.50
53.75
2.06
46
FAN-300-48A
57.75
54.00
2.06
48
FAN-300-48B
59.50
55.75
2.06
48
FAN-400-1/2
3.75
2.62
0.68
1/2
FAN-400-3/4
4.62
3.25
0.81
3/4
FAN-400-1
4.88
3.50
0.81
1
FAN-400-1 1/4
5.25
3.88
0.81
1-1/4
FAN-400-1 1/2
6.12
4.50
0.94
1-1/2
FAN-400-2
6.50
5.00
0.81
2
FAN-400-2 1/2
7.50
5.88
0.94
2-1/2
FAN-400-3
8.25
6.62
0.94
3
FAN-400-3 1/2
9.00
7.25
1.06
3-1/2
FAN-400-4
10.00
7.88
1.06
4
FAN-400-5
11.00
9.25
1.06
5
FAN-400-6
12.50
10.62
1.06
6
FAN-400-8
15.00
13.00
1.18
8
FAN-400-10
17.50
15.25
1.31
10
FAN-400-12
20.50
17.75
1.44
12
FAN-400-14
23.00
20.25
1.44
14
FAN-400-16
25.50
22.5
1.56
16
FAN-400-18
28.00
24.75
1.56
18
FAN-400-20
30.50
27.00
1.68
20
FAN-400-22
33.00
29.25
1.81
22
FAN-400-24
36.00
32.00
1.94
24
FAN-400-26A
38.25
34.50
1.94
26
FAN-400-26B
33.50
30.75
1.56
26
FAN-400-28A
40.75
37.00
2.06
28
FAN-400-28B
36.00
33.00
1.68
28
FAN-400-30A
43.00
39.25
2.18
30
FAN-400-30B
38.25
35.25
1.68
30
FAN-400-32A
45.25
41.50
2.18
32
FAN-400-32B
40.75
37.50
1.81
32
FAN-400-34A
47.50
43.50
2.18
34
FAN-400-34B
42.75
39.50
1.81
34
FAN-400-36A
50.00
46.00
2.18
36
FAN-400-36B
45.50
42.00
1.94
36
FAN-400-38A
47.50
44.00
1.94
38
FAN-400-38B
47.50
44.00
1.94
38
FAN-400-40A
50.00
46.25
2.06
40
FAN-400-40B
50.00
46.25
2.06
40
FAN-400-42A
52.00
48.25
2.06
42
FAN-400-42B
52.00
48.25
2.06
42
FAN-400-44A
54.50
50.50
2.18
44
FAN-400-44B
54.50
50.50
2.18
44
FAN-400-46A
56.75
52.75
2.18
46
FAN-400-46B
56.75
52.75
2.18
46
FAN-400-48A
59.50
55.25
2.44
48
FAN-400-48B
59.50
55.25
2.44
48
FAN-600-1/2
3.75
2.62
0.68
1/2
FAN-600-3/4
4.62
3.25
0.81
3/4
FAN-600-1
4.88
3.50
0.81
1
FAN-600-1 1/4
5.25
3.88
0.81
1-1/4
FAN-600-1 1/2
6.12
4.50
0.94
1-1/2
FAN-600-2
6.50
5.00
0.81
2
FAN-600-2 1/2
7.50
5.88
0.94
2-1/2
FAN-600-3
8.25
6.62
0.94
3
FAN-600-3 1/2
9.00
7.25
1.06
3-1/2
FAN-600-4
10.75
8.50
1.06
4
FAN-600-5
13.00
10.50
1.18
5
FAN-600-6
14.00
11.50
1.18
6
FAN-600-8
16.50
13.75
1.31
8
FAN-600-10
20.00
17.00
1.44
10
FAN-600-12
22.00
19.25
1.44
12
FAN-600-14
23.75
20.75
1.56
14
FAN-600-16
27.00
23.75
1.68
16
FAN-600-18
29.25
25.75
1.81
18
FAN-600-20
32.00
28.50
1.81
20
FAN-600-22
34.25
30.63
1.81
22
FAN-600-24
37.00
33.00
2.06
24
FAN-600-26A
40.00
36.00
2.06
26
FAN-600-26B
35.00
31.75
1.81
26
FAN-600-28A
42.25
38.00
2.18
28
FAN-600-28B
37.50
34.00
1.94
28
FAN-600-30A
44.50
40.25
2.18
30
FAN-600-30B
40.25
36.50
2.06
30
FAN-600-32A
47.00
42.50
2.44
32
FAN-600-32B
42.75
38.75
2.18
32
FAN-600-34A
49.00
44.50
2.44
34
FAN-600-34B
45.75
41.50
2.44
34
FAN-600-36A
51.75
47.00
2.68
36
FAN-600-36B
47.75
43.50
2.44
36
FAN-600-38A
50.00
45.75
2.44
38
FAN-600-38B
50.00
45.75
2.44
38
FAN-600-40A
52.00
47.75
2.44
40
FAN-600-40B
52.00
47.75
2.44
40
FAN-600-42A
55.25
50.50
2.68
42
FAN-600-42B
55.25
50.50
2.68
42
FAN-600-44A
57.25
52.50
2.68
44
FAN-600-44B
57.25
52.50
2.68
44
FAN-600-46A
59.50
54.75
2.68
46
FAN-600-46B
59.50
54.75
2.68
46
FAN-900-1/2
4.75
3.25
0.94
1/2
FAN-900-3/4
5.12
3.50
0.94
3/4
FAN-900-1
5.88
4.00
1.06
1
FAN-900-1 1/4
6.25
4.38
1.06
1-1/4
FAN-900-1 1/2
7.00
4.88
1.19
1-1/2
FAN-900-2
8.50
6.50
1.06
2
FAN-900-2 1/2
9.62
7.50
1.19
2-1/2
FAN-900-3
9.50
7.50
1.06
3
FAN-900-4
11.50
9.25
1.31
4
FAN-900-5
13.75
11.00
1.44
5
FAN-900-6
15.00
12.50
1.31
6
FAN-900-8
18.50
15.50
1.56
8
FAN-900-10
21.50
18.50
1.56
10
FAN-900-12
24.00
21.00
1.56
12
FAN-900-14
25.25
22.00
1.60
14
FAN-900-16
27.25
24.25
1.81
16
FAN-900-18
31.00
27.00
2.06
18
FAN-900-20
33.75
29.50
2.19
20
FAN-900-24
41.00
35.50
2.69
24
FAN-900-26A
42.75
37.50
2.94
26
FAN-900-26B
40.25
35.50
2.68
26
FAN-900-28A
46.00
40.25
3.18
28
FAN-900-28B
43.50
38.25
2.94
28
FAN-900-30A
48.50
42.75
3.18
30
FAN-900-30B
46.50
40.75
3.18
30
FAN-900-32A
51.75
45.50
3.44
32
FAN-900-32B
48.75
43.00
3.18
32
FAN-900-34A
55.00
48.25
3.68
34
FAN-900-34B
51.75
45.50
3.44
34
FAN-900-36A
57.50
50.75
3.68
36
FAN-900-36B
53.00
47.25
3.18
36
FAN-900-38A
57.50
50.75
3.68
38
FAN-900-38B
57.50
50.75
3.68
38
FAN-900-40A
59.50
52.75
3.68
40
FAN-900-40B
59.50
52.75
3.68
40
FAN-1500-1/2
4.75
3.25
0.94
FBH-875
1/2
FAN-1500-3/4
5.12
3.50
0.94
FBH-875
3/4
FAN-1500-1
5.88
4.00
1.06
FBH-1000
1
FAN-1500-1 1/4
6.25
4.38
1.06
FBH-1000
1-1/4
FAN-1500-1 1/2
7.00
4.88
1.19
FBH-1125
1-1/2
FAN-1500-2
8.50
6.50
1.06
FBH-1000
2
FAN-1500-2 1/2
9.62
7.50
1.19
FBH-1125
2-1/2
FAN-1500-3
10.50
8.00
1.31
FBH-1250
3
FAN-1500-4
12.25
9.50
1.44
FBH-1375
4
FAN-1500-5
14.75
11.50
1.69
FBH-1625
5
FAN-1500-6
15.50
12.50
1.56
FBH-1500
6
FAN-1500-8
19.00
15.50
1.81
FBH-1750
8
FAN-1500-10
23.00
19.00
2.06
FBH-2000
10
FAN-1500-12
26.50
22.50
2.19
FBH-2125
12
FAN-1500-14
29.50
25.00
2.44
BH-2375
14
FAN-1500-16
32.50
27.75
2.69
FBH-2625
16
FAN-1500-18
36.00
30.50
2.94
FBH-2875
18
FAN-1500-20
38.75
32.75
3.19
n/a
20
FAN-1500-24
46.00
39.00
3.69
n/a
24
FAN-2500-1/2
5.25
3.50
0.94
1/2
FAN-2500-3/4
5.50
3.75
0.94
3/4
FAN-2500-1
6.25
4.25
1.06
1
FAN-2500-1 1/4
7.25
5.13
1.19
1-1/4
FAN-2500-1 1/2
8.00
5.75
1.31
1-1/2
FAN-2500-2
9.25
6.75
1.19
2
FAN-2500-2 1/2
10.50
7.75
1.31
2-1/2
FAN-2500-3
12.00
9.00
1.44
3
FAN-2500-4
14.00
10.75
1.69
4
FAN-2500-5
16.50
12.75
1.94
5
FAN-2500-6
19.00
14.50
2.19
6
FAN-2500-8
21.75
17.25
2.19
8
FAN-2500-10
26.50
21.25
2.69
10
FAN-2500-12
30.00
24.38
2.94
12
FAN-75-26
30.00
28.50
0.81
26
FAN-75-28
32.00
30.50
0.81
28
FAN-75-30
34.00
32.50
0.81
30
FAN-75-32
36.00
34.50
0.81
32
FAN-75-34
38.00
36.50
0.81
34
FAN-75-36
40.69
39.06
0.94
36
FAN-75-38
42.69
41.06
0.94
38
FAN-75-40
44.69
43.06
0.94
40
FAN-75-42
46.69
45.06
0.94
42
FAN-75-44
49.25
47.38
1.06
44
FAN-75-46
51.25
49.38
1.06
46
FAN-75-48
53.25
51.38
1.06
48
FAN-75-50
55.25
53.98
1.06
50
FAN-75-52
57.38
55.50
1.06
52
FAN-75-54
59.38
57.50
1.06
54
FAN-150-40B