Diagram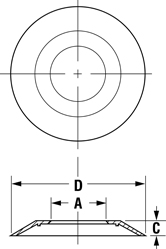 FN Series
Finishing Flanges
The FN series finishing flanges are an economical replacement option for metal flanges used in plumbing, water heaters, refrigeration, and machinery industries. These flanges are durable, non-corroding and ensure a long-lasting attractive finished appearance.
Wide range of sizes available
Can replace metal flanges
Material: Low-density polyethylene
Standard Color: white
Items below are filtered. Use this button to show all.
Item #
Dim A (IN)
Dim C (IN)
Dim D (IN)
Pipe Size
FN-179-1
.531
.20
2.12
1/4
FN-179-7
.625
.20
2.12
1/4
FN-179-3
.812
.20
2.12
1/2
FN-180
1.000
.44
2.88
3/4
FN-182
1.000
.31
3.25
3/4
FN-184
1.000
.32
3.75
3/4
FN-186
1.000
.38
2.38
3/4
FN-177
1.025
.28
2.50
3/4
FN-182-3
1.312
.31
3.25
1
FN-182-6
1.531
.31
3.25
1
FN-182-2
1.625
.31
3.25
1-1/4
FN-182-7
1.890
.31
3.25
1-1/2
FN-187-2
2.312
.31
3.50
2
FN-187
2.000
.31
3.50
2 OD Tube