Diagram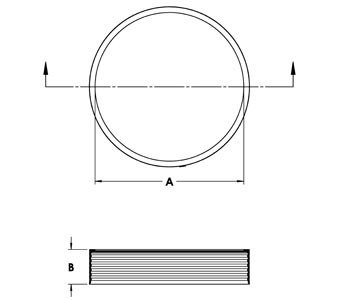 FPC Series
Fabricated Pipe Caps
The FPC series caps can be manufactured in one week to fit any size up to 60" (including fractional inches). Made of a high-density polyethylene top with flexible low-density polyethylene skirt for simple attachment.
Economical alternative to cumbersome two-piece cap
Any size up to 60"
Great for odd sizes
Material: High-density polytheylene (disk) and low-density polyethylene (skirt)
Standard Color: Black
Items below are filtered. Use this button to show all.
Item #
Dim A (IN)
Dim B (IN)
Pipe Size
FPC-32
32
4.5
32
FPC-34
34
4.5
34
FPC-36
36
4.5
36
FPC-38
38
4.5
38
FPC-40
40
4.5
40
FPC-42
42
4.5
42
FPC-44
44
4.5
44
FPC-48
48
4.5
48
FPC-50
50
4.5
50
FPC-52
52
4.5
52
FPC-54
54
4.5
54
FPC-56
56
4.5
56
FPC-60
60
4.5
60