Diagram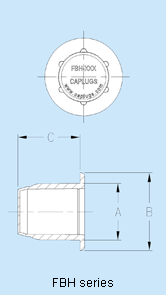 FBH Series
Bolt Hole Plugs for FAN series
The FBH series securely fastens FAN Series flange covers onto a flange. The outer ribs accommodate various hole diameter tolerances and a thick flange allows for easy removal.
FAN selector guide for size reference
Durable HDPE material
Covers a wide range of bolt hole sizes
Material: High-density polyethylene
Standard Color: Black
Items below are filtered. Use this button to show all.
Item #
Bolt Hole Size
Dim A (IN)
Dim B (IN)
Dim C (IN)
FBH-625
5/8
.635
1.03
.44
FBH-750
3/4
.761
1.12
.75
FBH-875
7/8
.888
1.28
.94
FBH-1000
1
1.020
1.43
1.19
FBH-1125
1-1/8
1.142
1.56
1.25
FBH-1250
1-1/4
1.269
1.68
1.25
FBH-1375
1-3/8
1.396
1.78
1.25
FBH-1500
1-1/2
1.530
1.93
1.25
FBH-1625
1-5/8
1.650
2.03
1.25
FBH-1750
1-3/4
1.775
2.18
1.25
FBH-1875
1-7/8
1.902
2.31
1.25
FBH-2000
2
2.040
2.43
1.25
FBH-2125
2-1/8
2.156
2.56
1.62
FBH-2375
2-3/8
2.410
2.81
1.62
FBH-2625
2-5/8
2.664
3.09
1.62
FBH-2875
2-7/8
2.918
3.31
1.62