Diagram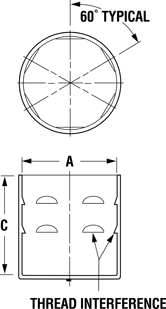 PCAS Series
American Standard Pipe Caps (12-Thread)
The PCAS series pipe caps are designed to fit ASTM-A 120 standard schedule 40 pipe. The caps protect the longer thread form associated with piping used in water wells and irrigation. An interrupted bead assures the cap is locked in place.
ASTM-A 120 Standard
Schedule 40 Pipe
Protects threads
Material: Low-density polyethylene
Standard Color: Orange
Items below are filtered. Use this button to show all.
Item #
Dim A (IN)
Dim C (IN)
To Fit NPT Thread Size (IN)
PCAS-1080
1.865
1.75
1-1/2
PCAS-1081
2.352
2.50
2
PCAS-1082
2.852
2.88
2-1/2
PCAS-1557
3.422
2.98
3